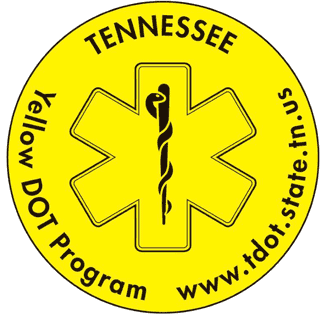 Your Official Enrollment Site
Groogan Insurance is now an official enrollment site for the TN Yellow Dot Program. They had their big launch on April 29, 2016, and are very excited to be offering this service to their community.
What is the TN Yellow Dot Program?
The TN Yellow Dot Program is a free service available to any driver or passenger on the roadways. It ensures that first responders are provided with the medical history information they need in the event of a car accident or other emergency. It truly is the decal that could save your life. The decal tells first respondents that a designated folder with your photo and medical history is available to them in your vehicle. If you were unable to communicate with them, they would still have access to the critical information that would allow them to provide you with the best possible care.
Enroll
It only takes a few minutes to enroll! You will be provided with the yellow decal to place on your car or motorcycle. You will also be given a folder with your photo and a medical history information sheet for you to complete. All information is confidential as the program does not require you to share your medical history with anyone else and your social security number is not required.
For complete details please visit the TN Yellow Dot Program Website.
To enroll, simply visit our office!